Poison Girl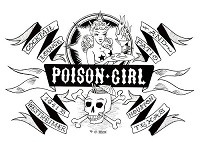 @ 1641 Westheimer from 6 to 9, with a best costume award at 7:30
The pinball, the patio, and the pinups are only a few of the reasons why we love Poison Girl. And you won't find a better selection of whiskey anywhere.
PG will be serving up some spooky shots to Crawlers this year, including the Cupa Cabra made with Izkali, the Pirate's Booty made with Sailor Jerry, and the Gulag made with Reyka, each at $5 a pop.
Check out Poison Girl's Facebook page and Twitter feed for more details.