Catbirds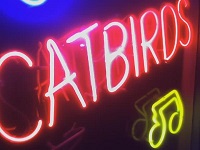 @ 1336 Westheimer from 8 to 11, with a best costume award at 9:30
The quintessential Montrose bar, Catbirds features good company, great drinks, and fantastic jazz. It's charm is real, though it can be hard to explain. Sometimes you just want to go where everybody knows your name.
There'll be some spooky special shots at Catbirds during the Crawl, including the Doomsday (Sailor Jerry rum with ginger beer), the Hellfire ( Izkali tequila with Tabasco), and Zombie Juice ( Reyka vodka with Red Bull ), each for just $6 a pop. Abandon all hope, ye who drink here.
Check out Catbirds' website, Facebook page, and Twitter feed for more details.