About the Montrose Crawl
We know that Montrose & Halloween are meant for each other – all they need is a few drinks to bring them together. That's where the Montrose Crawl comes in!
On the last Saturday night in October, the Montrose Crawl transforms Montrose into the ultimate Halloween event. We've combined a traditional pub crawl with the spirit of trick-or-treating and run it through the heart of Montrose to create a unique experience – strangeness in a strange land. It's Vampire Mardi Gras, it's Satan's Fourth of July, it's Montrose's very own Halloween party, and you're all invited. See the Crawl's FAQ for details. You can also see a video of a past Crawl if watching is your thing.
About Montrose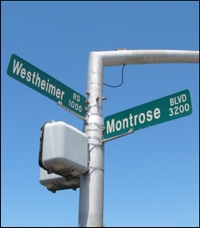 Montrose is many things to many people. As one of Houston's oldest neighborhoods, Montrose has evolved over the years from a sleepy suburb to an urbanized amalgamation of cultures. Some are drawn to Montrose by its historic houses and shaded streets, while others prefer the excitement of its neon clubs and shadowy bars. One person might view Montrose as a gay mecca, another may see it as a punk haven, and a third would consider it a hippie hollow. The truth is that Montrose is all of those things and more. It's home to fine dining and to questionable dives. It's stocked with everything from exquisite antiques to second-hand jeans. It's art galleries and tattoo parlors and music venues and restrooms where you can buy almost anything, if you just ask the right person.
Some might sum it all up by saying that Montrose is "different", that it's "special", or maybe even "bohemian". But to the people who live, work, and play here, we all know that Montrose is just weird. And if you're weird too, you're welcome to join us.
Read more about Montrose at its Wikipedia page.